We had the opportunity to tour our local Andeavor and Shell Refineries earlier this month.
Andeavor
Andeavor's Martinez Refinery is on 2,200 acres and has a crude oil capacity of 166,000 barrels per day. Using crude oils from California and other domestic and foreign sources, the refinery produces motor fuels, including cleaner-burning California Air Resources Board (CARB) gasoline and CARB diesel fuel, as well as conventional gasoline and diesel fuel. The refinery also produces heavy fuel oils, liquefied petroleum gas and petroleum coke. The Martinez Refinery receives crude oil by tanker through the San Francisco Bay at the Logistics LP Martinez and third-party pipeline systems.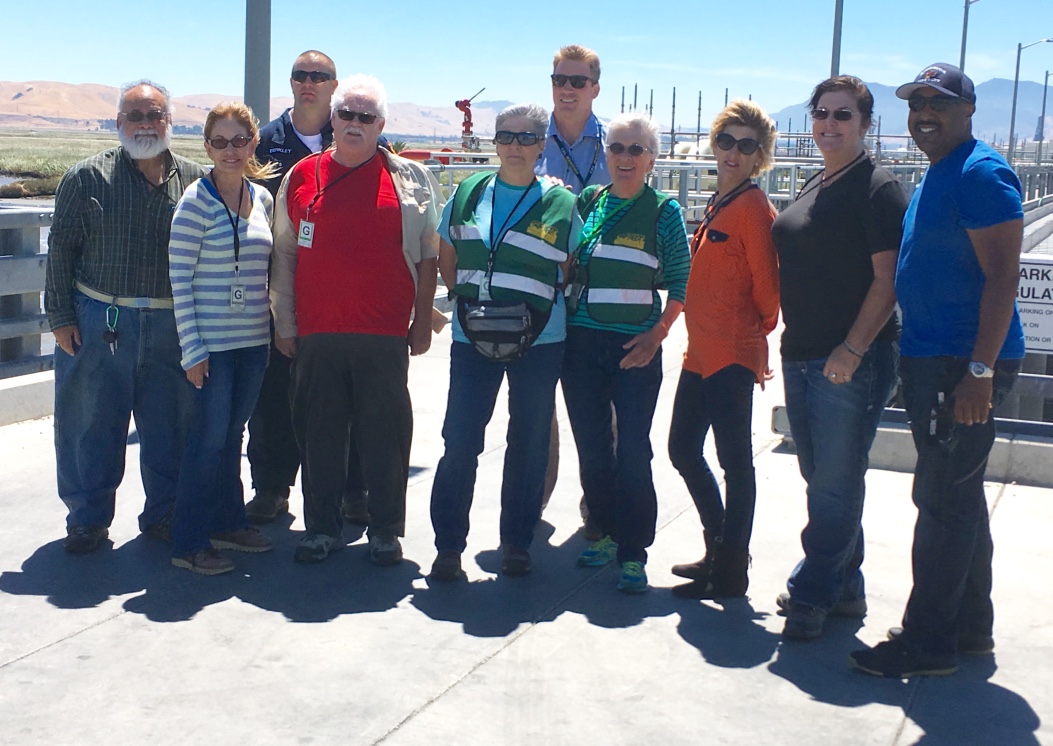 A bunch of us on an informative tour of the Andeavor Refinery. Here we're out on the dock with the ships and shoreline wildlife. Of note, this refinery is responsible for several natural habitats including the 760-acre Point Edith Wildlife Area. We learned that the Refinery safety crew works with state and federal agencies to protect the local habitat, and that the refinery supports several local environmental organizations including Save Mount Diablo, East Bay Regional Par District, the Muir Heritage Land Trust and Lindsay Wildlife Museum.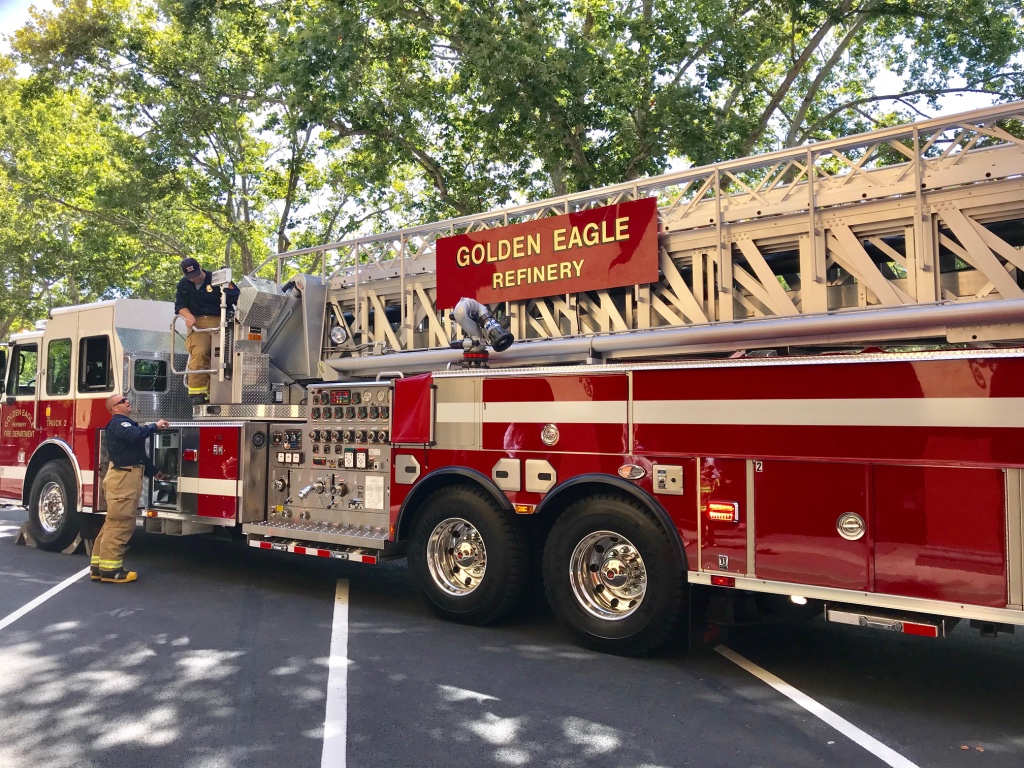 Andeavor used to be Tesoro, which bought Valero's Golden Eagle refinery back in 2002.  The various beautiful fire engines still bear this name. This photo was from one of their activities in support of the community (4th of July).
Shell
Another group had the pleasure of visiting our local Shell Refinery for a bit of history and a tour.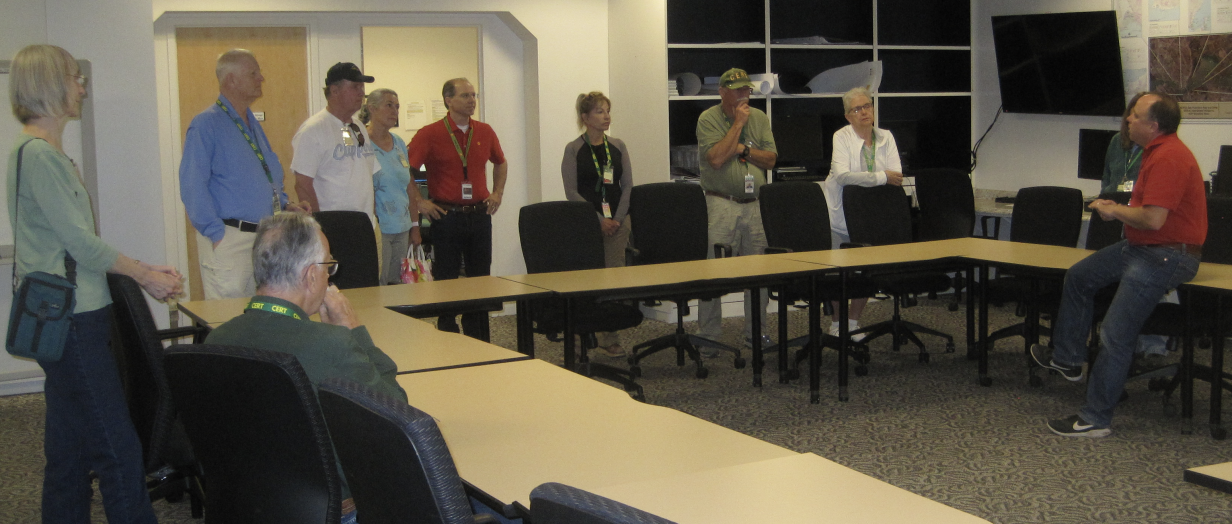 "I was impressed by how vast the facilities are inside the fence. Also the processing areas were amazingly clean and compact. The different units of the plant reflecting various product processes and construction periods."
– Brian Lindblom
While we were prohibited from taking pictures during our tour, we learned a lot about our longtime neighbor. Of note, their site has been in operation since 1915, and this refinery sits on about 1,000 acres of land. Shell's Martinez Refinery has amassed a tradition of technical achievement, and is currently one of the most complex refineries in the world.
I was struck by the size of the facility – Driving past various parts did not convey the enormity. Nor have I noticed odors at any time driving near the plant.
– Ron Bunch

I really enjoyed the tour. Our hosts were great. The refinery doesn't look that large from the street but driving through it gave me a sense of the actual size and complexity of the operations.
– Cathi Walton
This refinery "combines state-of-the-art facilities and equipment to convert up to 165,000 barrels of crude oil a day into many useful products. These products include automotive gasoline, jet fuel, diesel, petroleum coke, industrial fuel oils, liquefied petroleum gas, asphalt, and sulfur." [source]
Haven't bought anything other than Shell since and looking forward to Bike Race. Thanks for the wonderful CERT Trailer Shell Martinez!
– Lisa Anthony
Safety and Community
As a recent Shell press release highlights, safety and community initiatives are very important to both of our local refineries. Martinez Area CERT is a beneficiary as trainers and responders. Shell donated our emergency response trailer (see right), and Andeavor's recent donation is covering a large range of training gear and supplies. Speaking of training gear, our 20 hour Fall Basic Training is coming up!
We're thankful for the tours and shared insights into the complex workings of these businesses, and especially grateful for the expansive safety practices and people behind them.