Pet Disaster Preparedness Kit
Pet carrier for each pet
Two week supply of food and water
Non-spill food and water bowls
Pet first-aid kit
Medications and dosing instructions
Cat litter box and litter
Plastic bags for waste disposal
Paper towels
Disinfectants
Leashes/collars/harnesses
Blankets
Toys and treats
Newspaper
Animal Rescue Card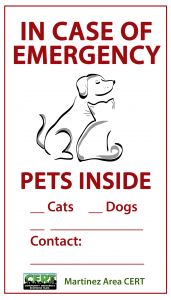 Here is an animal rescue card for your door. Print this page, note the types and number of pets in your household, and include contact information (your name, phone, veterinarian contact).
If you're able to evacuate with your pets, remove the card or write EVACUATED across it.
Thanks to Elisabeth Leunert from Pixabay for the cat and dog image on the rescue card, and big dog photo by Lum3n.com from Pexels.