The California Specialized Training Institute is offering a very helpful training called Protecting Yourself from COVID-19 In the Workplace. This free online training is provided by the National Institute of Environmental Health Services (NIEHS). The course has four modules plus an exam for a certificate.
We tested the course for you. It's quick and pretty interesting! The course contains the standard advisories about using masks (but in a lot more detail), washing your hands, not touching your face, and social distancing. Additionally there is a focus on workplace safety: how to take measures to protect the workplace and workers, which workers are deemed essential and/or have higher vulnerability, and planning steps that businesses can take to weather these adverse conditions better.
Here are directions on how to register and take this class. Click on each image if you need more detail. (Note: LMS stands for Learning Management System.)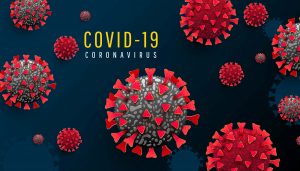 COVID-19 Online Training
FREE
Protecting Yourself from COVID-19 in the Workplace
Providing education on infection control and workplace safety measures for your employees isn't just the right thing to do — it's a requirement.
This is an awareness level training designed to inform workers about how to protect themselves and co-workers from exposure to the virus.
These materials were developed by the National Institute of Environmental Health Sciences Worker Training Program, National Clearinghouse for Worker Safety and Health Training.
We thank NIEHS for sharing these tools, and are happy to bring them to you.
Available course:
Protecting Yourself from COVID-19 In the Workplace
___________________________________________
Lessons Included:
Introduction to COVID-19 Response Training
COVID-19 Basics
Assessing COVID-19 Workplace Exposure Potential
Methods to Prevent COVID-19 in the Workplace
To create an account in the CSTI LMS:
Visit CSTI.ORG or https://csti-ca.csod.com/.
Click the green register button on the center of the screen.
Follow the on screen instructions to set up your account.
To login to the LMS:
Visit CSTI.ORG
Click the purple Login button center of the screen. On the Login Page enter the e-mail and password you used to register.
To locate courses within the CSTI LMS:
1. Use the LMS home menu to navigate to MENU > CSTI Courses > Browse for Training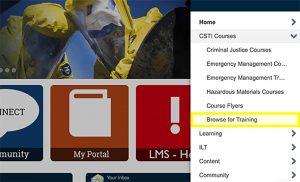 2. Select the "Curriculum" icon in the left menu to filter training type.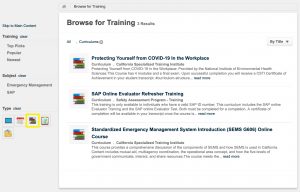 3. Select the Online Training you wish to take.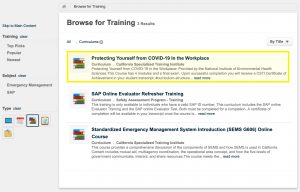 4. Select "Open Curriculum".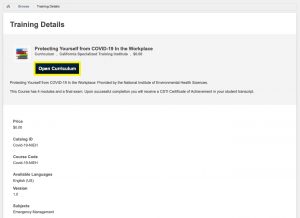 5. Select "Launch" to open the course.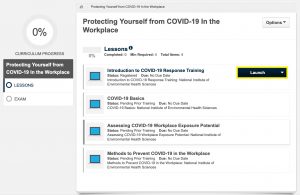 6. A new blank window will open, you will be able to "click here" to continue if the training does not start automatically. (Your browser may show a slightly different view). Once opened, proceed with the training. Complete all four lessons to access the final exam.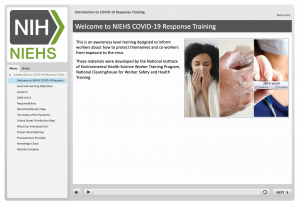 7. √ Check, your course is complete. Choose "View Completion Page" under the Options tab to locate your certificate.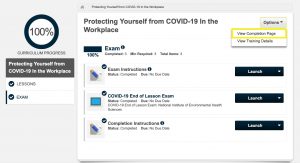 8. Your course certificate is now available.

9. Your certificate can also be found in your transcripts.

Register for CSTI Courses: Visit the Learning Management System and create an account. Click the green "Register" button located on the center of the screen, and follow the on-screen instructions to set up your account.
Browse for training: Login to the Learning Management System. On the top menu bar select "CSTI Courses" then "Browse for Training" and search or filter results to find available courses.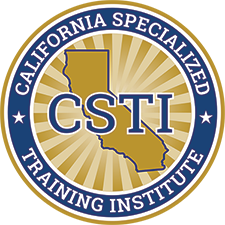 Reasonable accommodations for people with disabilities are available upon request. Make your request as early as possible as last minute requests will be accepted, but may be impossible to fill. If accommodation is needed, please send your request to CSTIRegistration@caloes.ca.gov or call (805)-594-2100
BE READY – TRAIN CSTI
For more information regarding courses we offer,
please call: (805)-594-2100
Email us at: CSTIinfo@caloes.ca.gov
Find us online by visiting:
www.caloes.ca.gov/CSTI
___________________________________________________________________________
Copyright © 2020 California Office of Emergency Services – CSTI, All rights reserved.
Our mailing address is:
California Office of Emergency Services – CSTI
Camp San Luis Obispo
Cal OES/CSTI 10 Sonoma Avenue, Building 904
San Luis Obispo, CA 93405