In the fall of 2017, Arlington and W. Arlington neighborhoods expressed concern for the local fire risk following the Tubbs/Santa Rosa fires. Both of these streets are in a neighborhood near the Carquinez Strait Regional Shoreline, a large wildland urban interface. These neighborhoods had reason to be concerned as a wildfire several years before raced up the hills behind the neighborhoods, then down the other side and into the backyards of the high school and hospital.
The winter of early 2018 offered a big step forward. Michael Chandler assisted the Contra Costa County Fire Protection District's (CCCFPD) Kathy Woofter, who provided neighborhood training in fire prevention.
The following spring 2018, CERT's monthly training focused on how to do a local weed abatement survey. Again, Kathy Woofter held our training.
That summer of 2018, our CERT volunteers did the weed abatement surveys along Berrellesa and Alhambra Avenues, also other areas of high interest. Our results were reported to CCCFPD.
This summer of 2019, CERT volunteers were again rallied to repeat the weed abatement surveys and to provide follow-up reports to CCCFPD.
Risk Assessment
Martinez is in Cal Fire's very high fire hazard severity zone.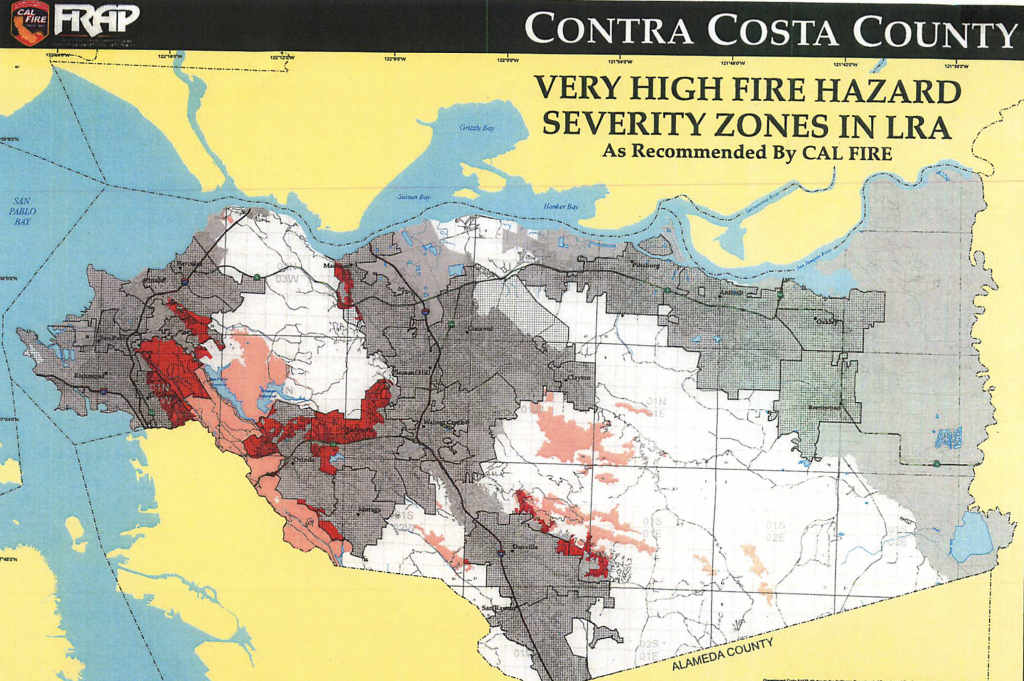 To help address this hazard, Martinez Area CERT submitted a proposal to the National Fire Protection Association to become a nationally recognized Firewise Community. In August of 2019, we became the second one in Contra Costa County. Great job, team!
Wildland Urban Interface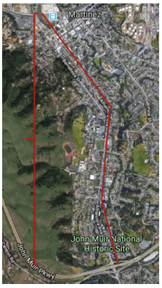 Our area was carefully selected to be a size our neighborhoods and volunteers could reasonably manage. The area is called a Wildland Urban Interface (WUI). In our area, we have east facing, steep sloping hills that are studded with oak, buckeye and bay trees. These hills are regularly exposed to drying winds, and consequently we have a history of fires. The wildland is adjacent to residential areas, which makes it a WUI.
Our Firewise Proposal
Our proposal described our fire risk reduction educational outreach. It included several activities:
Coordinate a community-wide awareness/educational activities for risk reduction and increase preparedness.
Delivered via community organizations information on community wildfire danger.
Martinez Area CERT presentations on building an emergency preparedness kit.
Wildfire related article(s) placed in the community newsletter.
Wildfire workshop for residents; speakers from forestry, fire, other emergency agencies.
Develop neighborhood groups within Firewise area to collaboratively reduce fire risk.
Potential for grants funds to help with risk reduction in more problematic sections.
Other neighborhoods can also become Firewise Communities – expanding our risk reduction region.
Program Requirements
What does the program require of us?
Volunteer action – 500 hrs/yr.
Educational Outreach.
"Sweat Equity" in neighborhoods to reduce risk.
Develop neighbor projects for larger parcels.
Assist with survey of open/public areas.
Document actions.
We're well on our way to fulfilling our task and protecting our neighborhoods with Firewise Martinez. Watch for our news and updates. Here are some of our Firewise news posts.