ARE YOU READY FOR A DISASTER?
DOES YOUR FAMILY HAVE A PLAN?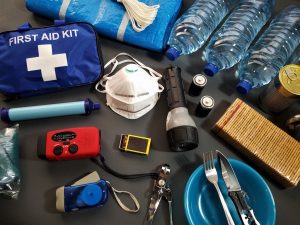 Let's spend two quick hours learning how to prepare yourself and your family to be ready when a major disaster strikes. We will cover plans and ideas you should consider to help your family be ready when this challenging time occurs. Some of the topics covered:
Identifying your disaster risks
Preparing your Go Bag
Secure home and personal data
Evacuation and shelter-in-place
Emergency kits
Fire safety
Disasters don't plan ahead, but YOU can!
Saturday, February 20 or April 17, 2021
10:00 AM to Noon
Class will be held on Zoom.
Please register below.
All training is FREE!
Here are the slides from our class on Nov. 2020, and the CDC's water sanitation instructions.