ARE YOU READY FOR A DISASTER?
DOES YOUR FAMILY HAVE A PLAN?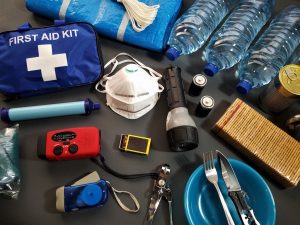 Let's spend two quick hours learning how to prepare yourself and your family to be ready when a major disaster strikes. We will cover plans and ideas you should consider to help your family be ready when this challenging time occurs. Some of the topics covered:
Identifying your disaster risks
Preparing your Go Bag
Secure home and personal data
Evacuation and shelter-in-place
Emergency kits
Fire safety
Disasters don't plan ahead,
but YOU can!
2022 class dates will be announced soon!
Please register for future classes below. We will let you know when classes are scheduled.
All training is FREE!
Here are the slides from our class on Nov. 2020, and the CDC's water sanitation instructions.