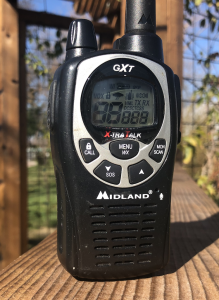 Want to learn how to properly operate FRS/GMRS radios for use in a drill or disaster response?
Communications in a disaster is one of the most challenging parts of our response efforts. We offer this special class for CERT graduates and people who are currently enrolled in the Basic Training class. We encourage all CERT members to learn the skills needed for proper radio operations.
Our next class will be held on Saturday, October 23, 2021, from 9:00 am to noon. It will be held in person at Martinez City Hall. We also have two practice dates—see the information below the Registration form.
Register for this class
Upcoming Practice Dates
Do you have a radio but not sure how to use it? Come be part of our "Health & Safety Team" for an imaginary race around the park in front of City Hall.
If you're new to radio, please take the October 23rd class first (register above), then join us for the refresher/practice on Nov. 13.
Saturday October 2, 9:30 – 10:30 am (done!)
Saturday November 13, 9:30 – 10:30 am
If you have one, bring your FRS/GMRS or ham radio to practice with. If you will need to borrow one, please let us know using the registration form above.
NOTE: Radio participants will NOT be running around the park. We will have a map of various stationary sites where you will be reporting from. If anyone has mobility issues, you're welcome to choose a bench site or contact us for another option.