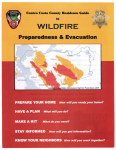 Thank you to Fire Chief Lewis Broschard and his team from the Contra Costa County Fire Prevention District for offering us an in-depth look at the 2019 Wildland Fire Season Planning. They shared their slides from the talk on July 16, 2019 at the Martinez Senior Center. Martinez is not only in the Fire Hazard Zone for Contra Costa County, it's also in the Very High Fire Hazard Zone (PDF with two maps).
The team also shared a 16 colorful page CoCo County Resident's Guide to Wildfire Preparedness and Evacuation and this two page brochure on how to prepare your home and reduce risk of harm from a wildfire.
Click either of the pages below for the full PDF.